Quicks Team Shooter - Jodie Green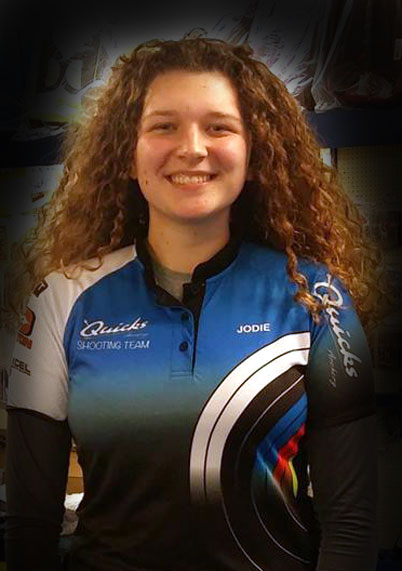 Summary
| | |
| --- | --- |
| Club: | Ditchling Archery Club |
| County: | West Sussex |
| Age: | 18 |
| How long have you been shooting? | 10 years |
Equipment specification being used for 2018
| | |
| --- | --- |
| Bow make and model: | Hoyt Prodigy with Hoyt F7 Limbs |
| Arrows: | Easton ACE |
| Sight: | Axcel Carbon Achieve RXL |
| Stabilisers: | Fivics Carbon Evolution |
| V-Bar & Extender: | Win & Win |
| Arrow Rest: | Shibuya Ultima |
| Finger Tab: | AAE Cavalier |
How did you get involved in archery?
My family has always had an interest in archery - my grandad had previously shot for GB and my great uncle had shot in the Paralympics - so when we found a have a go session at a holiday camp we grabbed the opportunity to try it out. I was only 7 at the time, pretending to be 10 (luckily I was very tall)! At the end of this session we did some 'one arrow shoot offs' and I beat everyone in the group, we then quickly signed up to an archery club. Through my love for the sport this meant that every year I was improving and competing more often.
What are your shooting highlights?
Some of my highlights in archery have been: representing England at the JNIC, participating at the Youth Festival doing head to heads in teams and as an individual, and meeting loads of people and making great friends.
Your goals and ambitions for 2018 and beyond?
Unfortunately I am not able to put my full focus on archery this year due to my upcoming A-Levels in June but I look forward to shooting at university in October where I can really focus on my shooting and to improving my technique.