Our Archery Shops
We have two Archery Pro Shops in the UK. They all stock a vast range of archery equipment and are staffed by expert shooters ready to help you pick equipment to suit your size and ability. We can guide you through starter kits or help you select the latest competition recurve or compound bows. Mainly we want to make sure you are comfortable with your archery kit when you leave our shop.
Our main shop and headquarters is in Waterlooville on the South Coast of England. We also have a shop in Honiton, Devon.
Test Facilities
Our shops have indoor ranges available to allow customers the chance to test new equipment when considering a purchase. Click on one of the shops below to view full information.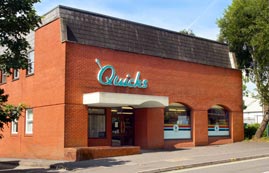 Quicks Archery,
18-22 Stakes Hill Road,
Waterlooville,
Hampshire,
PO7 7JF
Tel 02392 254114


Opening Hours
We are open Tuesday to Saturday 8.30am to 4.00pm.
Closed Sundays and Mondays

(office staff available for telephone orders and enquiries on Mondays)
*Also closed on Bank Holidays


Quicks Archery,
Unit B1 Reme Drive,
Heathpark Trading Estate
Honiton
Devon,
EX14 1SE
Tel and Fax 01404 44400
Opening Hours
We are open Tuesday to Saturday from 9.30am to 4.30pm
Closed Sunday and Monday

*Also closed on Bank Holidays