Quicks Team Shooter - Alan Holder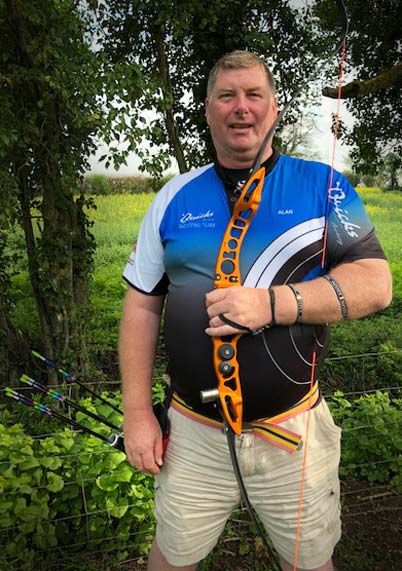 Summary
| | |
| --- | --- |
| Club: | Forest of Bere |
| County: | Hampshire |
| Age: | 54 |
| How long have you been shooting? | 11 years |
Equipment specification being used for 2019
Bow make and model: Outdoor
Smartriser Nero barebow riser
UKKHA VX1000 xcurve 36 lb limbs
Arrows:
Easton ACE 430 + spider vanes
Easton Pro Field 380 + Spider vanes
Pressure button:
Beiter button
Finger tab:
Longshot Versa Tab
Bow make and model: Indoor
Spigarelli Revolution barebow riser
Ukkha VX1000 xcurve 32 lb limbs
Arrows:
Easton X23 + 200 grain Pro points
Pressure button:
SF
Finger tab:
Longshot Versa Tab
Bow make and model: Clout
Spigarelli Vision barebow riser
SF Ultimate Pro 70 x 38 lb limbs
Arrows:
Easton Axis FMJ 400 + Vanetec Vanes
Pressure Button:
Shibuya DX
Finger Tab:
Longshot Versa Tab
How did you get involved in archery?
We started archery after our son Ashley brought himself a Petron bow on holiday from Trago Mills in Devon. When home after a few weeks we booked him on a beginners with Stanford Archers. After a couple of weeks we both had a go and were hooked. I've always shot barebow and am self taught, but I watch and listen to other archers of all bow styles.
What are your shooting highlights?
In my time I have been Hampshire outdoors champion for 9 years, I have also been ranked No 1 for a couple of years in the past in the UK Target rankings. I am also Hampshire indoors champion which I have held for a few years.
I am currently the UK barebow clout champion for which I hold 5 national records. I'm ranked No1 for metric clout & No2 for imperial and combined. Also I have been Hampshire clout barebow champ for a few years now.
Your goals and ambitions for 2019 and beyond?
Having had a dip in form for target in the last couple of years, I'm not worrying so much about scores and just enjoying the shooting and hoping to be competitive for 2018 outdoors. My clout form seems to be improving so I'm hoping for more good things from clout archery.
Other personal sponsors
- Evans performance bowstrings