Newsletter Gillo and Beiter Hit Miss 22nd Aug 2017

'Gillo' Arrives at Quicks
Named after Michele Frangilli who's nickname is "Gillo" , winner of Three Olympic medals including the Team Gold in London 2012.

Since 2014 Michele's experience has been translated into the Gillo range, a line of products inspired by his nickname

Actually we have had a few of these Gillo products for a little while, initially for barebow shooting, and liked them a lot.
Now we have a greater range in stock for both barebow and recurve archers so you can tune your handle weight distribution

There are Stabilisers, V-Bars, Rods & Weights and Plastic & Wood Grips in the range in addition to the handles & handle weights.


JB35 Gillo Integrated Barebow Weight
Kit to fit the G1M and G1L Risers £44.94




AR60set Gillo GS8 High Module Carbon Stabiliser Set
1x AR60, 2x AR61, 1x AR62, 1x AR66 : (saves 5%)£365.02
Well You Have Got To Admit They Are Colourful.
Beiter 29 mm Scopes With K-Lens and Bubble

These are back in stock in a range of new colours.

If you are thinking of switching from Longbow to Compound for the autumn indoor season then these scopes are a great enhancement to your kit.
Light gathering is enhanced with the transparent bodies and the plastic lenses are lighter and more robust than glass lenses.
There is a great range of colours and a selection of additional accessories.
Additional accessories including flou pins sets, aiming ring sets and interchangeable bubbles, so you can get just the right arrangement for you.
Includes features and design that are seen in top of the range models.
Very reasonably priced and will complement a good recurve bow.
Lots of micro adjustment range and good lock down system.
Lightweight alloy construction with good quick release on the block.
In fact a lot of sight for the cost
These Faces are designed for the Beiter Hit Miss Indoor Tournaments

Practise Faces for the competitions in 60 and 40 cm sizes.
You can buy them individually or
We are doing a Team Pack with mixture of faces at a special reduced price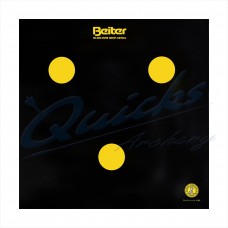 BT76P Beiter Hit / Miss Team Pack :
5x 40cm + 5x 60cm Faces, Special price £7.50

You can also Like us on Facebook
Visit Our Pro Shops to see and try New Items In Stock.
Shops at Waterlooville and Honiton Tel: 023 92254114 Email: quicks@quicksarchery.co.uk
To be removed from Quicks Newsletter Mailing List: Unsubscribe here