Quicks Team Shooter - Mark Haldane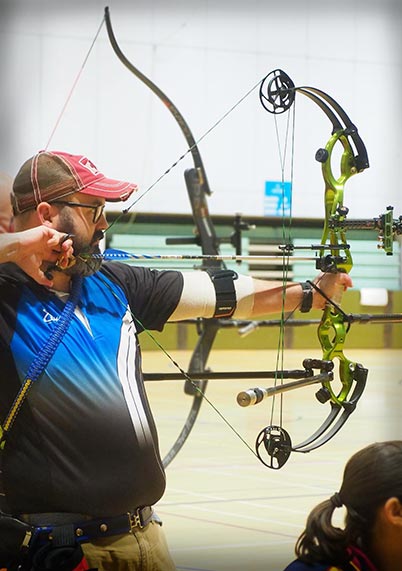 Summary
| | |
| --- | --- |
| Club: | Old Basing Archers |
| County: | Hampshire |
| Age: | 39 |
| How long have you been shooting? | 7 years |
Equipment specification being used for 2018
| | |
| --- | --- |
| Bow make and model: | PSE PerformX |
| Arrows: | Easton X10 Protour 420 |
| Sight: | Axcel Achieve |
| Scope: | Axcel AV31 |
| Release Aid: | Truball Abyss Flex |
| Stabiliser: | Fuse X-Taper |
| Launcher: | Hamskea Hybrid Pro + Launchtec Blade |
| Strings and Cables: | Gas Bowstrings |
How did you get involved in archery?
I first started archery at school in the 1990s as an alternative to cross country running. I came back to the sport in 2011 after a break of 14 years and haven't looked back since.
What are your shooting highlights?
2017 was a great year for me. I achieved my GMB classification, won Andoba, won both the Hampshire outdoor & indoor championships, and broke into the top 20 in the National Rankings.
Your goals and ambitions for 2018 and beyond?
Maintain my top 20 ranking position, improve my personal bests, learn a little bit more about how a compound bow works. And pick up the odd medal along the way.
Other personal sponsors
- Axcel
- Tru-Ball
- Gas Bowstrings