Quicks Team Shooter - Lizzie Warner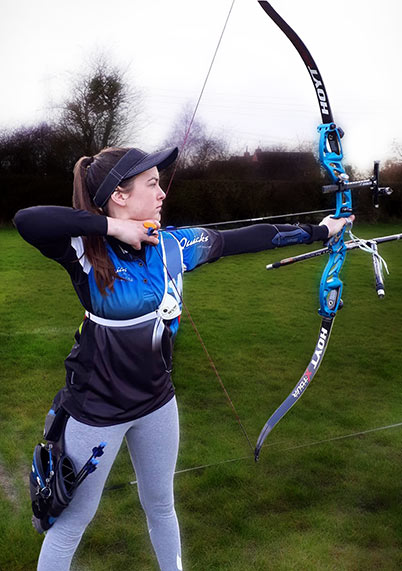 Summary
| | |
| --- | --- |
| Club: | Kirby Muxloe Archery Club |
| County: | Leicestershire |
| Age: | 19 |
| How long have you been shooting? | 10 years |
Equipment specification being used for 2019
| | |
| --- | --- |
| Bow make and model: | Formula X Riser & Carbon Velos limbs |
| Arrows: | X10 550 Easton arrows |
| Sight: | Shibuya Ultra 2 |
| Stabilisers: | Ramrods Ultra |
| Arrow Rest: | Shibuya Ultima |
| Finger Tab: | Fivics Saker 3 |
How did you get involved in archery?
I began archery when I was 8 years old, my brother and my dad were already shooting and encouraged me to start. It looked like a sport I would enjoy and I took to it straight away.
What are your shooting highlights?
I first shot for my county when I was 10, and then progressed to shoot for the East Midlands and then at the age of 13, for England. I've since shot for England a number of times, most recently for the senior team last year at the Indoor Nationals. I've competed for GB 6 times, the first time in 2015 when I also represented England at the Commonwealth Youth Games.
Major achievements -
2015 - Commonwealth Youth Games Silver Medal
2016 - Senior British Indoor Champion
2017 - European Indoor Team Bronze
2017 - National series finalist
- Competed for GB 6 times
- National age group junior champion for 5 successive years
Your goals and ambitions for 2019 and beyond?
My future ambitions include having a long career in shooting for Great Britain in both the junior and senior teams, although my main goal would be to shoot in the Olympics in 2020 or 2024.
Other personal sponsors
Other sponsors include:
- Reign Bowstrings
- S J Langton
- Nottingham Building Society
- Spinwings
- Sportsaid