Quicks Team Shooter - Jamie Adams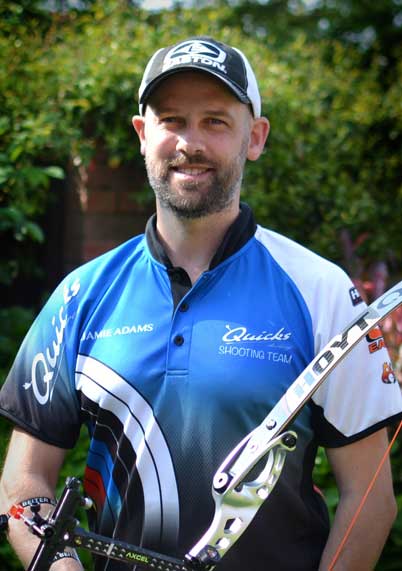 Summary
| | |
| --- | --- |
| Club: | Bowmen of Warfield |
| County: | Berkshire |
| Age: | 41 |
| How long have you been shooting? | 26 years |
Equipment specification being used for 2019
| | |
| --- | --- |
| Bow make and model: | Hoyt Formula X with Hoyt Velos bamboo limbs |
| Arrows: | Easton X10 |
| Vanes: | Brady Ellison Spider Vanes |
| Sight: | Axcel Achieve RXL |
| Sight Pin: | Beiter |
| Stabilisers: | Easton ACE |
| Finger Tab: | Angel II |
| Pressure Button: | Beiter |
| Arrow Rest: | Shibuya Ultima |
| Binoculars: | Swarovski |
| Shooting Glasses: | X-Sight |
| Bowstring: | Podium |
| Arrow Wraps: | ArrowSocks |
How did you get involved in archery?
I was inspired by seeing Simon Terry win his bronze medal during TV coverage of the Barcelona Olympics in 1992. I then decided to make a bow in my school workshop and phoned a local club asking if I could shoot it at their targets…… unsurprisingly they said no! Instead I joined their beginner's course and I was hooked after the first lesson.
How have you progressed to where you are now?
I was very lucky to join a club with some excellent coaches (Crawley Archery Club with Ann and John Hartfield both snr and jnr) who took me under their wing and set me on the right path for which I will always be grateful. I subsequently received guidance and advice from many excellent mentors, coaches and archers including some transformational days of coaching from Don Rabska (USA) and Juan Carlos Holgado (Spain). I also take pride in maintaining and tuning my equipment for best performance.
What are your shooting highlights?
- County outdoor target, indoor target and field champion for several different counties over the last 20 years (Sussex, Surrey, Bedfordshire, Berkshire)
- 2x SCAS indoor champion
- 3x National University champion (BUSA/BUCS)
- 10x SCAS field champion
- 3x English FITA (WA) field champion
- GBR team member for FITA (WA) World Field Championships 2004 & 2008
- Gold Arrowhead award, FITA (WA) Field Archery
Your goals and ambitions for 2018 and beyond?
To be able to balance work, family and archery so I can still compete at a reasonable level going forwards! Regain GMB classification for both field and target archery, achieve UK top 10 ranking in both field and target.
Other personal sponsors
- Podium Bowstrings
- Hoyt dealer advisory staff shooter
- XSight archery
- Arrowsocks
- Beiter
- Spidervanes