Quicks Team Shooter - James Woodgate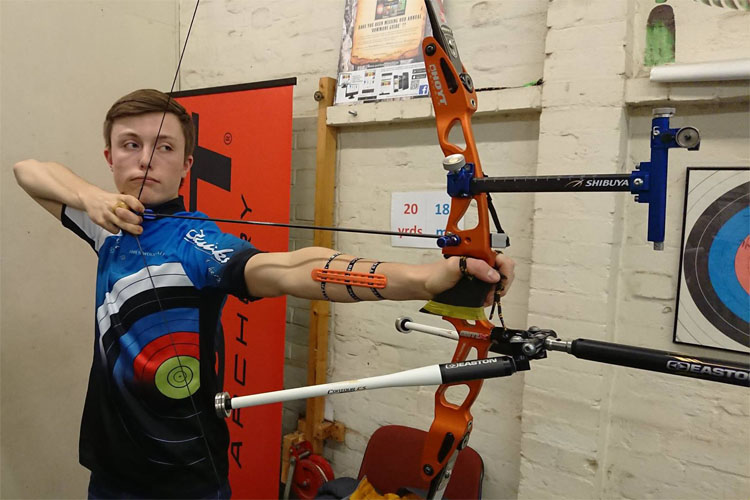 Summary
| | |
| --- | --- |
| Club: | Woking Archery Club |
| County: | Surrey |
| Age: | 16 |
| How long have you been shooting? | 9 years |
Equipment specification being used for 2019
| | |
| --- | --- |
| Bow make and model: | Hoyt GMX 25" riser with Hoyt 990 TX limbs (long) |
| Arrows: | Easton ACE |
| Sight: | Shibuya Ultima |
| Stabilisers: | Easton contours whilst awaiting delivery of Ramrods for the 2019 season |
| Arrow Rest: | Shibuya Ultima |
| Finger Tab: | Fairweather |
How did you get involved in archery?
I started Archery at the age of 7, one year after my brother, inspired by Have-a-Gos at Warwick and Arundel Castles. I competed at events locally and Nationally from the age of 9 and was coached by Gary Carr (from AC Delco Bowmen) for 7 years until my drive and success led to my being invited onto the AGB Recurve Academy in September 2018. I am now coached by Tony Ferguson. In September 2018 I was also nominated for the Talented Athlete Scholarship Scheme (TASS) which gives me invaluable support through strength and conditioning with a personal trainer, regular physio therapy, sports psychology and lifestyle coaching via Surrey University to help me achieve my goals.
Major achievements -Target:
2019 SCAS Indoor senior champion
2018 Junior National Champion overall and U18
2018 Podium placing at Junior National Outdoors U18 category
2018 Surrey Junior overall champion
2018 Gold medal mixed team at the Youth Festival (with live-streaming of finals from the arena at Lilleshall)
2015 Podium placing at Junior National Outdoors U14 category
Major achievements -Field:
2018 2nd place U18 at the ABO
Your goals and ambitions for 2019 and beyond?
My current ambition is to represent GB internationally as a cadet in 2019 and continue to improve my Archery as a junior next year.
Other personal sponsors
Other sponsors include:
- Ramrods
- TASS
- CSAA
- Woking Archery Club