Coaching - Club Hire / Out Of Hours Use
For clubs or groups, not necessarily archers, who need a range or a large open space e.g. for yoga sessions, martial arts etc.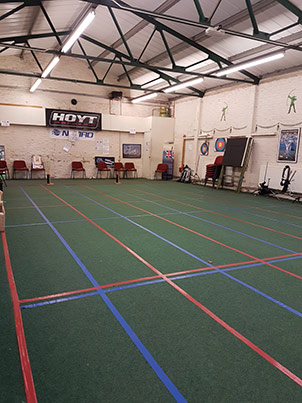 Currently Offered:- 23m x 8m heated open indoor area incorporating a 10 lane shooting range at Apps Court Farm, Walton on Thames for use outside of shop hours (Evenings:- Mon-Sat, all day Sundays). Drinks vending machine is available on site. Toilet access next door (sorry but there is no wheelchair access to the toilets).
Duration:- Sessions of any duration can be accommodated.
Prerequisite:- Use of the range (for shooting) is restricted to members of recognized Archery organisations i.e. Gnas, nfas, efas, ifaa or fita etc. Archers must provide their own equipment.
Non-archery users have to ensure that the range is left in a similar state to how they found it.
Target Faces:- Range (shooting) users receive free 60cm Portsmouth faces (or equivalent value face) as part of their hire fee.
Access:- Group officials are given a key that gives them access to the range out of hours.
Availability:- The range area is currently booked:
| | |
| --- | --- |
| Monday | No Bookings |
| Tuesday | Sep-Mar |
| Wednesday | Sep-Mar |
| Thursday | Sep-Mar |
| Friday | Sep-Mar |
| Saturday | No Bookings |
| Sunday | Ad-hoc afternoon bookings about one per month |
Costs:- The cost is charged by the hour, at a fixed rate on Saturdays and at a reducing hourly rate during the week.