Coaching - Outdoor Archery Range at Apps Court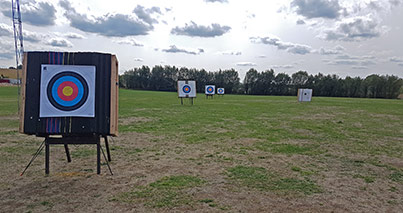 Outdoor Range Use: For existing archers to use on an ad hoc basis.
Currently Offered at:- Apps Court Farm, Walton on Thames during shop hours (9:30 – 16:50). Quicks reserve the right to exclude anybody from the range at anytime at the discretion of a member of Quicks staff. The range is not available to customers outside of shop hours.
Duration:- Charged hourly
Range distances:- Any distances out to 100 yards / 90 metres can be accommodated. The range is normally laid out as a Gents WA1440 course so 90m/70m/50m/30m, however, we can change the distances to suit if required.
Target Bosses:- A total of 5 bosses are available over the summer period. Four are on stands that are suitable for target archery and one is floor standing, suitable for field practice.
Target Faces:- The outdoor range has faces suitable for the distance shot. These are range faces and should not be taken away at the end of the session.
Imperial distances use 122 cm "full size" face.
Metric distances use a 122 cm face for 90m/70m/60m and an 80 cm face for 50m/30m
Ground target usually has a 10cm aiming point on the boss for "field" practice
Lost arrows:- A metal detector is available to assist in finding lost arrows, however, Quicks archery centre accepts no responsibility if an archer is unable to locate a lost arrow.