Coaching - Indoor Range at Apps Court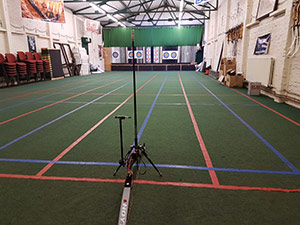 Indoor Range: For existing archers to use on an ad hoc basis during shop hours. The range is also used outside of shop hours by clubs hiring the facilities. This is not restricted to archery and can include any club that needs an open space for their activities. This can include Air pistol/riffle clubs, exercise clubs (yoga, indoor activities) etc.
Currently Offered at:- Apps Court Farm, Walton on Thames during shop hours (9:30 – 16:50). Quicks reserve the right to exclude anybody from the range at anytime at the discretion of a member of Quicks staff.
Duration:- Charged hourly
Range distances:- The range has separate 20 yard and 18 metre shooting lines that are used for normal shooting practice. There are also mobile targets that can be moved closer for children or for adults wanting to bow tune or blank boss training. Group sessions are often carried out at closer range, however, the shooting line is normally moved forward to the 10 yard line for these sessions.
Target Bosses:- There is a range of targets available to use at Apps court
A wall of five 130cm bosses, two deep, each with two shooting lanes are available for general practice allowing up to ten archers to shoot at once.
In addition there are two mobile, ground standing, rover butts that are used for children who cannot reach the full 20 yard distances.
A mobile 95 cm Atlas boss on a stand is available for close range shooting which is typically used for blank bossing or blind shooting.
Target Faces:- Faces for the indoor range are supplied on request. They are single use and can be taken away at the end of the session. Faces available for this purpose are standard Portsmouth (60 cm face), WA18 (40 cm face or 40 cm triple) Worcester (PAA face single or 5 spot). All other faces must be paid for.
Equipment:- The range has a few items that can be used by archers as part of their range hire.
Overhead lights can be switched on individually over each boss to improve the light at the target.
A Chronograph to measure arrow speed can be set up for archer to use in bow tuning sessions.
Paper tuning frame with paper roll can be used for tuning purposes.
A 10" tablet on a stand is available to video an archers technique and play back to analyse the shot.
Mobile atlas boss can be positioned for close range shooting for tuning and practicing form.
Damaged arrows:- Although we try to maintain the targets in good repair, there are occaisions when a "soft" spot has developed due to archers hitting the same spot with a lot of arrows. Quicks archery centre accepts no responsibility if an arrow is damaged by passing through a soft spot and breaking on the wall behind the targets (or missing the bosses altogether).