Coaching - Individual Range Use
Archery Coaching at Apps Court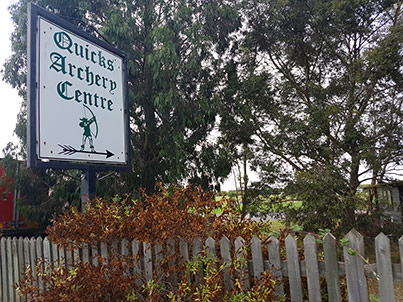 For existing Achers.
Currently Offered at:- Apps Court Farm, Walton on Thames during shop hours (9:30 – 16:50).
Note that Quicks occasionally have a group session booked using the whole range. Individual range users will have to vacate the range during these (typically one-hour) sessions.
Duration:- Charged hourly
Prerequisite:- Use of the range is restricted to members of recognized Archery organisations i.e. Archery GB (GNAS), NFAS, EAF, EFAA or WA (FITA) etc. (or subject to approval by a member of staff).
Quicks reserve the right to exclude anybody from the range at anytime at the discretion of a member of Quicks staff.
Target Faces:- Range users receive (by request) a free 60cm Portsmouth face (or equivalent value face) as part of their hire fee. Other faces can be purchased at the time.
Range Membership: Quicks operate a range membership system which, for an annual fee, members receive a £1 discount per hour of range time.
Costs:- The cost is charged by the hour, at a fixed rate on Saturdays and at a reducing hourly rate during the week.