Coaching - Novice Archery Coaching Course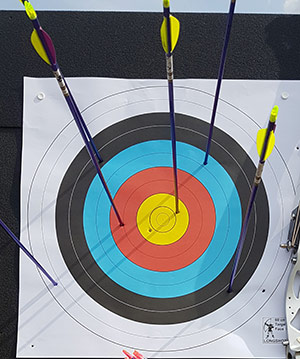 Progression from Beginners Course.
Currently Offered at:- Apps Court Farm, Walton on Thames.
Duration:- 6 Hour course spread over 4 – 6 weeks.
Prerequisite:- (Preferably 3rd or 2nd Class) The course assumes a basic level of archery where the archer has completed a beginners' course and has been shooting for a few months consolidating their initial technique. The student is expected to have their own basic equipment, but is unlikely to have much, if any, experience of buttons, kissers, stabilisers or clickers (Quicks trainer bows may be used, but this will limit the usefulness of the course).
Goal:- To train the archer, improving their technique, with a goal of achieving good groups at longer distances thereby enabling the archer to achieve 1st class scores when shooting the relevant distances.
Content:- The course is structured assuming the archer spends 2 to 3 hours practising at their own club for each hour spent with the coach.
The current ability of the archer will be assessed with reference to the six stages of shooting:
Stance – Draw – Reference – Aim – Release – Follow Through - using own equipment (preferably).
The archer will practise assessed shooting at 20 yards with the intention of improving technique, using smaller target faces at a constant distance to improve the stance – draw – reference and aim before switching to outdoor shooting.
Moving outdoors to distances of at least 50 yards, the goal is to work on improving underlying style to enable the archer to tighten their groupings and increase their score. This will be achieved by assessing where arrows land and tracking any trends.
The course will include basic set up and bow tuning of the equipment to ensure that it is set appropriately for the archer. The current state of tuning of the archers equipment will be established, looking at all the parameters necessary such as:
Tiller
String Nock Setting
String picture
Centre shot alignment
Stabilisers

Arrow length
Draw length
Arrow spines - static
Limb alignment
The coach will help the archer to start fine tuning the bow by checking the button tuning and the position of the string nock point.
A clicker and stabilisers will be introduced (if not already in use) and a guide to their use will be given.
The coach will introduce goal setting and the mental aspects of shooting, although this will be to encourage the archer to consider these in their own preparation and shooting.
The course will conclude by repeating the introduction session and assessing how well the archer has improved as a result of the above work.