Coaching - Have A Go
Introduction to archery.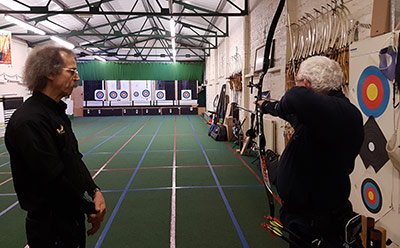 Currently Offered at:- Apps Court Farm, Walton on Thames.
Duration:- 1 Hour session.
Prerequisite:- (Unclassified) No previous experience necessary. The archer will shoot using equipment provided by Quicks.
Goal:- To give a complete beginner a chance to try out archery in a safe environment at minimal cost.
Content:- The current ability of the archer is assessed by shooting the 20 yards indoor range (closer for younger children).
Time will then be spent on the six stages of shooting:
Stance – Draw – Reference – Aim – Release – Follow Through
The coach will suggest improvements and ideas that the student will practice until they are confident in their technique before introducing the next item to concentrate on in order to improve their overall ability.
This session is essentially the first week of the beginner's course. If the student wishes to proceed to the full course, then they pay the difference between the course and the HAG to cover the next 5 hours of the full beginners course.