Coaching - Advanced Archery Coaching Course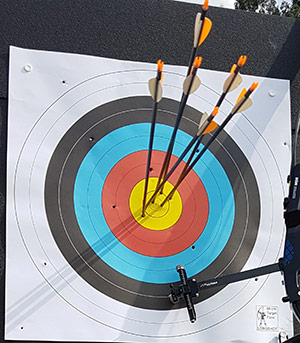 Progression from Intermediate Course.
Currently Offered at:- Apps Court Farm, Walton on Thames.
Duration:- 6 Hour course spread over 4 – 6 weeks.
Prerequisite:- (Bowman Class) The course assumes a good level of archery where the archer has been shooting for a few years, both at their own club and at tournament. They will have tried out different ideas in their own techniques, probably with a coach, and will be looking for ways to improve further.
The student will have their own, tuned equipment, and is expected to have experience with buttons, kissers, stabilisers and clickers etc.
This level of coaching is normally offered by a personal coach meeting with the archer regularly over a long period of time. As this course is 6 hours long, it can only cover a small range of things that need to be considered at this level, so if the student requires long term coaching they will be advised to find their own coach who can make this level of commitment. This course is excellent for people who are at an impasse in their own shooting or coaching and want to try out a different coach to get some fresh ideas. It is possible that more than one course will be required as this is not a "quick fix" course.
Goal:- To offer methods that enables the archer to develop further their critical self-analysis and focused self-training techniques. Minor tweaks to equipment and technique may be required, but it is expected that the archer has tuned their own equipment and can shoot consistently to a good level. The course is aimed at assisting a Bowman standard archer to improve further up the Bowman Class and to introduce or consolidate the archer's regime to enable them to approach or achieve a Master Bowman level of shooting.
Content:- The course is structured assuming the archer spends 2 to 3 weeks practising at their own club for each hour spent with the coach.
The coach will emphasise the "feel" of the shot throughout the course. Each shot should "feel" good and the main focus of the mental side of shooting each arrow will cover ways to achieve this. Shooting to get the feel correct is an important aspect of shooting at this level, so a fair bit of time will be devoted to this.
Initially, the current standard of the archer and their equipment will be assessed both in discussion and performance, with a view to tweaking either if an issue is found. Any advice or alteration will be after a two-way discussion between the archer and the coach.
The archer will be assessed at 20 yards with the intention of developing the archer's approach to their shooting, before switching to shooting outdoors at longer distances with the same aim in mind.
The next stage is to work on improving the consistency of the archer to minimise the times their shooting performance drops off during a shoot. This starts with a discussion on how their scores develop during a round and what any perceived drop off may be caused by.
The coach may talk through the ideas behind different bow set-ups and offer advice on what the archer can look for to improve their own bow set-up. Taking goal setting and the mental aspects of shooting seriously, the coach will look at how this is handled by the archer and may offer suggestions for improvement. They will talk in detail on planning and preparation for shoots and long term plans for the year ahead.
The course will conclude by assessing how well the archer has applied the ideas and techniques developed throughout the course (over three months of elapsed time) as a result of the above work.